Get More Response with quality, up-to-date, targeted mailing lists.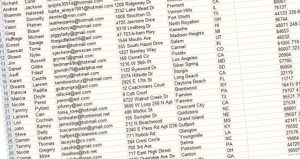 We partner with the highest quality mailing list compilers to ensure the best leads. Our wholesale broker prices are better than individual pricing and we pass the savings on to you.
We acquire Business Lists, Consumer Lists and Residential Lists that reflect your demographic requirements and targeting needs.
If you have your own list, we will provide a NCOA Move Update service on your list (as required by the USPS) and send you the move updates to refresh your master list.