With Direct Mail, our goal is simple:
To help you create mail pieces to reach your
Current Customer Database
and
New Prospect Database
The most successful businesses use direct mail to grow customer loyalty and to build brand awareness among new prospects.
Direct Mail is a time-tested, trusted, and tangible advertising approach which delivers a reliable ROI (return on investment).
If you would like to see your business boost sales among Current Customers while developing brand awareness among New Prospects, then give MediaMax Direct a call or send us an email.
After all, your "brand-in-their-hand" is worth more than thousands of email messages never opened.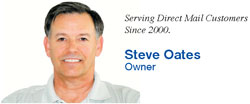 Printing
Mailing
Postcards
Letters
Brochures
Self-mailers
Mailing Lists